Management Tool
The Management Tool module is as monitoring tool, which can help you monitor the sales activities in your business. This module allows you to preview and print any transactions including voids, cancels, refunds, account payments as well as previewing your current charge sheets and hourly sales and much more.
This module is designed to give you a full control of your business. At any time you can see your current sales for each terminal or combined daily total for all terminals. You can have up to six terminals on the main screen that are automatically updated every 5 seconds (this can be changed in the options screens). There are also Daily Totals, Hourly Sales and Charge Sheets Summary windows on the main page.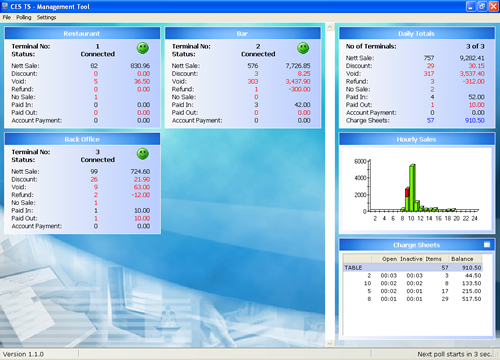 When you click on the title bar of any of those mini windows either a bigger window is open or another window with more details and options.
The Daily Totals window shows a combined Daily Totals for all Terminals together in one place (X-Read). This window has the clickable Title Bar, Number of Terminals polled and Charge Sheets.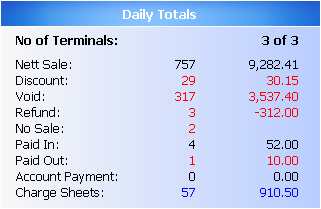 The Hourly Sales window shows your hourly sales in nice chart format. The horizontal axis represents Hours in 24H format and the vertical axis represents the $ value (sales).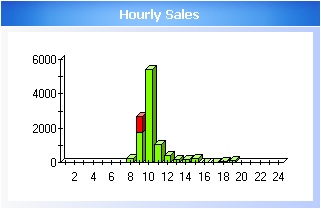 This next window shows you all open charge sheets (tables, bookings etc.). Every open sheet is listed here with sheet number, time it's been open, number of items and its current balance.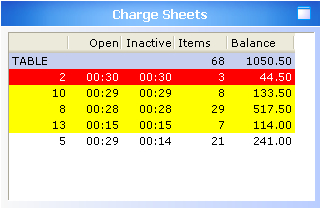 The Transaction Type analysis view breaks up sales transactions by the type such as Sales, Voids, Refunds, No Sales etc. The following types are available: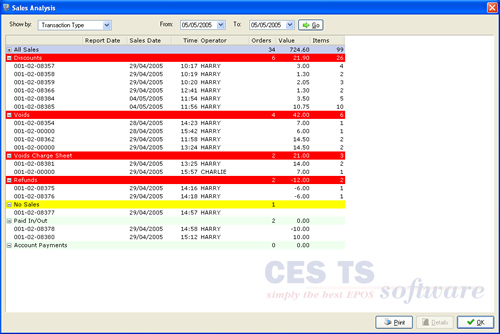 The Transaction No analysis view shows you each individual transaction for the specified period of time.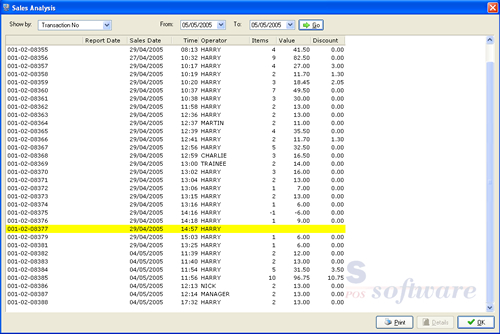 The Tender Type analysis view gives you a break down of all your tender types.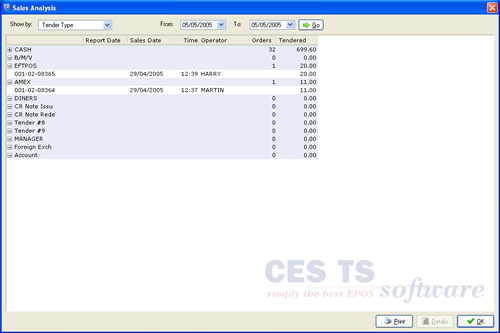 The Group/Department/PLU analysis view gives you a break down of your sales by Group, Department and each PLU. This is a Group, Department and PLU report all in one.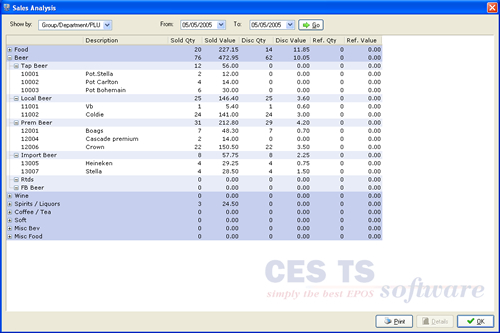 The Charge Sheets analysis view shows you all finalized sheets for given period of time. If you click on the + sign next to the sheet number you'll see all transactions linked to that table. The number of transactions listed under selected sheet is how many times this sheet has been turned over. The last column in the grid shows you the number of turn overs. Also second last column shows you the number of covers for each sheet and charge sheet in total if covers are used.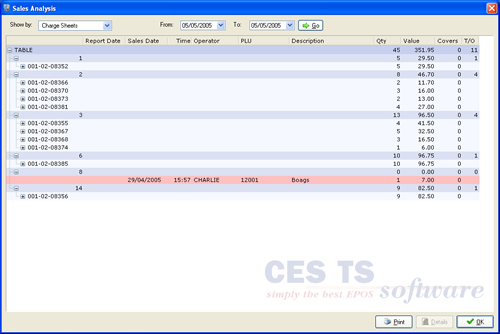 The Hourly Sales Chart view shows you a nice chart based on your hourly sales for given period of time.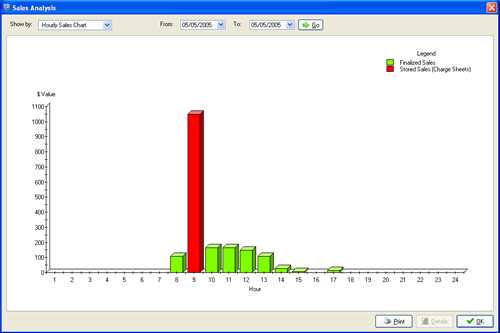 The green bars represent you total finalized sales for specified time of the day. The Red bars are you saved/stored unpaid charge sheet orders. During the busy period such as lunch or dinner in a restaurant environment most of the bars would be red but as the customers pay and go the bars will become green. At the end of the night all bars should be green. If any of the bars are still red check your charge sheets, there might be still some sheets open. If you're checking the history of your sales all bars should be green.
Management Tool Features
Each terminal shown separate on the main screen with its current totals

Can show 6 terminals at the time and scroll bar provided that can be scrolled up or down to view other terminals

Polling interval can be set so that each terminal can be polled every x number of seconds

Polling can be stopped and started at any time

Combined Daily Sales Totals in one place on the main screen (x-read)

Hourly Sales chart on the main screen

Hourly Sales shows finalized sales as well as any stored sales

Open Charge Sheets list on the main screen

Charge Sheets can be sorted by Sheet No, Time its been open, Number of Items and Total Balance in ascending or descending order

Detailed Sales Analysis

Break down by Transaction Type (Sales, Voids, Refunds, Discounts etc.)

List of every individual transaction

Delete transactions

Change transaction types

Break down by Tender Type (Cash, Visa, Master Card etc.)

Break down by Group/Department/PLU

View finalized charge sheets and charge sheet turn overs

Hourly Sales grid (exact figures including sales, discounts and refunds)

More features to come…

.